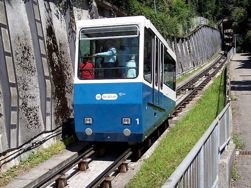 The welcome reception takes place at the restaurant Rigiblick on Sunday, 17th June 2012 from 6 pm to 8 pm. Attending this event will give you the opportunity to get to know the other conference participants, have a glass of wine and enjoy the beautiful view over the city and the lake of Zurich. With a bit of luck, the weather will even allow you to see a glimpse of the Alps from the restaurant's terrace.
Travel instructions
You reach the restaurant with a small cable car climbing up the Zürichberg (mountain of Zürich). Take the Tram number 9 or 10 to Seilbahn Rigiblick. There you transfer to the cable car (called Seilbahn Rigiblick), which takes you to the top of the hill within 5 minutes. Get off the cable car at the terminal station Rigiblick and walk 50 meters to the left to reach the restaurant. For more information on the restaurant and the location, please refer to the homepage: www.restaurantrigiblick.ch.


Conference Dinner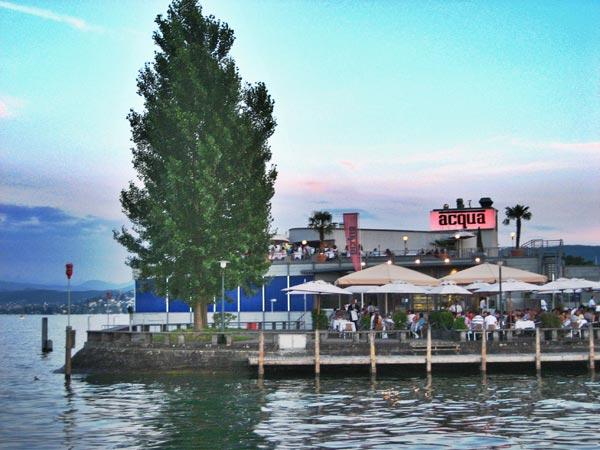 The conference dinner will be held at the beautiful Acqua restaurant on the shore of Lake Zurich on Tuesday, 19th June 2012 at seven o'clock in the evening. The Acqua restaurant offers an impressive view of the city, the lake and the Swiss Alps. The guests can enjoy their culinary treats while watching sail boats float past. The restaurant offers a creative, fresh and light cuisine with an Italian touch. Fine wines compliment the culinary experience at the Acqua lakeside restaurant. The Acqua restaurant is literally located on the lake, resting on 64 piles. The warm interior with leather, nacre and wood is complimented by a stylish garden directly on the lake.
Travel instructions
The restaurant can be reached by boat or by tram from the city centre in about 10-15 minutes. For more information on the restaurant and the location, please refer to the homepage: www.acqua.ch