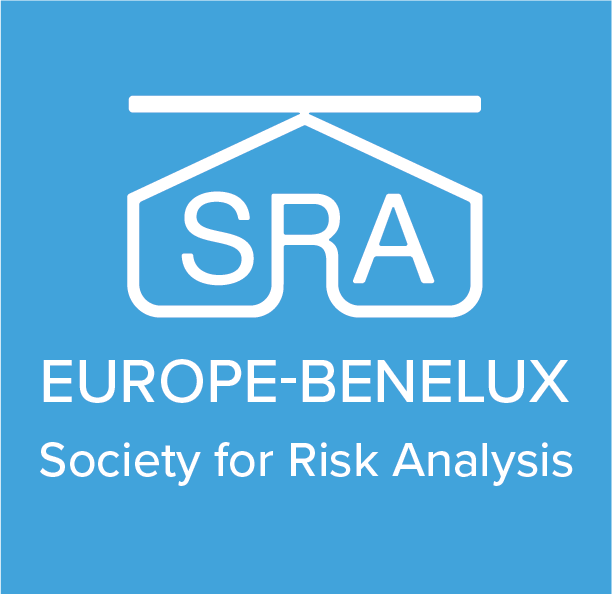 Invitation and Call for Abstracts for the 6th annual SRA-E Benelux conference:
"Risk perception: From Science to Policy"
March 22nd 2022, RIVM, 9:15-17:30
Registration and Call for Abstract here.
Several decades of research have shown that the way people perceive risks plays an important role in people's decision making and behaviour. Risk perception is as much a process as it is an evaluation. It touches every aspect of our daily lives.
Risk perception influences our choices to get vaccinated, to work safely, and whether we wear our seatbelt. It affects our choices to buy novel food products, our decisions on what type of treatment to take to combat illness, and whether we accept unfamiliar innovative technologies like genetic modification or cryptocurrency. Furthermore, the COVID-19 pandemic has once again made clear that addressing risk perception and behaviour can be key determinants of effective policy response. Risk perception thus has implications for individual's judgments, decisions and behaviours. It also has implications for the communication about these risks, the acceptance and adherence to policy as well as preventive measures by society.
But what do we know and what can we still learn about, for example, the determinants of risk perception? And what makes people act upon their risk perception in a way that mitigates or increases the risk? How can these insights be used to improve informed and evidence-based decision making? How can these insights be used in communication among members of the general public and policy makers?
These questions will be central to the 6th annual SRA-E Benelux conference. The conference topic will be "Risk perception: From Science to Policy." The conference will be organized at the Dutch National Institute for Public Health and the Environment (RIVM), on March 22nd, 2022.
The conference aims to bring together researchers, academics, practitioners and policy makers engaged in risk analysis. It also aims to promote risk research and knowledge and understanding of risk analysis techniques within the Benelux countries and beyond.
The organization invites all contributions related to risk, e.g., risk analysis, risk management, risk governance, risk ethics, risk perception and risk communication. We particularly welcome contributions that focus on risk perception in the domains of, for example (environmental) health, (medical) decision making, occupational health and safety and policy making. Contributions from other domains are also welcome.
The Registration and Call for Abstracts is open now. You may register (and submit an abstract if you like) via the link below. The conference fee is 25 euros, payable via the registration link.
Timeline:
December 1st 2021: Registration and Call for Abstracts is open
January 17th 2022: Call for Abstracts closes
February 7th 2022:You will be informed about acceptance status of your abstract
March 7th 2022:Registration closes (also: no refund of fee after this date)
March 22nd 2022: Conference on Risk Perception: From Science to Policy
We aim for an in-person conference. In that case, the conference will be held at RIVM, Bilthoven, Netherlands. Information on the conference will be posted on here and our social media channels.
Registration and Call for Abstract here.
Social media channels: